Information Security
Information Security Policy
Information Security is Yuboto's priority and for this reason an Information Security System is developed and pin order:
To ensure the availability, integrity and confidentiality of information in the context of the company activities.
To protect in the best possible way the interests of Yuboto and those who cooperate with the company.
To ensure the full compliance with the relevant legal and regulatory requirements.
To achieve the business goals set with the maximum possible security.
To provide customers with the best quality of services based on Information Security.
The objectives of the implementation of the Information Security System are the following:
The protection of IT assets and data transferred within Yuboto's services from any threat, internal or external, intentional or accidental.
Data storage, avoiding viruses and external intrusions, controlling access to systems, recording all security incidents and managing unexpected incidents.
Control of the system through the clear definition of roles and responsibilities, mainly that of the Data Protection Officer. The Data Protection Officer is responsible for controlling and monitoring the operation of the system, as well as for informing all involved personnel about the Information Security Policy.
Informing the personnel about the requirements regarding Information Security.
Training on issues related to the Information Security System
Carrying out a risk assessment through which the threats concerning the company are identified and evaluated.
Carrying out internal audits at technical and organizational level, in order to examine compliance with the provisions of the Information Security System.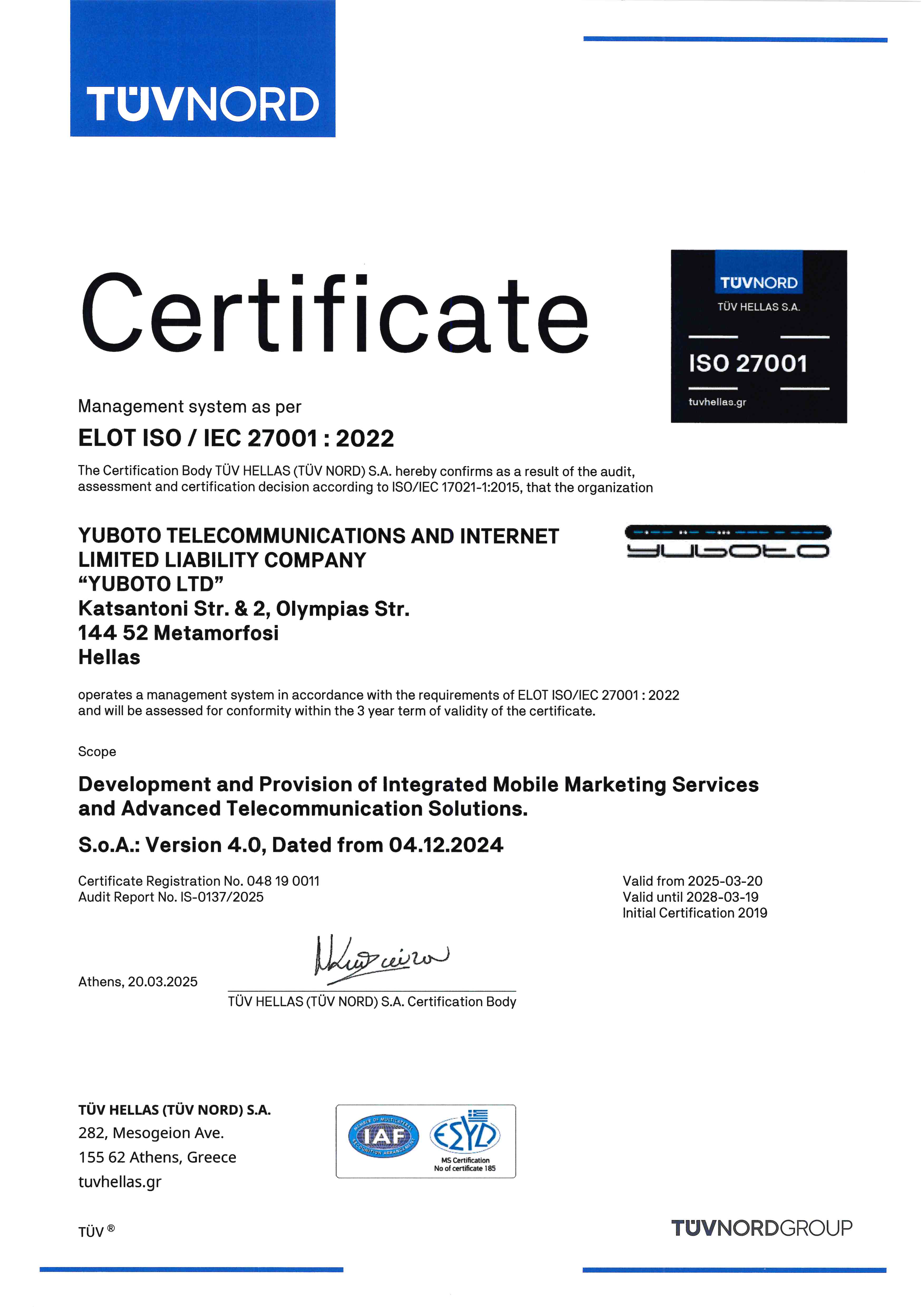 All the technical and organizational measures taken aim to the continuous improvement of the Information Security System and fulfillment of the security requirements according to the ISO 27001 standard.
The personnel of the company involved in the activities and procedures described and related to Information Security System is responsible to implement, as faithfully as possible, the Information Security System according to its work. Yuboto's management and personnel are committed to achieving the goals of the company and complying with the requirements regarding Information Security.