Yuboto and its people, unlike the contemporary trends, are fully aware that they are part a social fabric that they have to help and protect, in order for the company to develop healthfully and properly integrated in the environment where it belongs to.
Driven by responsibility and consistency, Yuboto won the first prize as "CSR Group of the Year" in 2015 , a significant and leading award for Yuboto's Corporate Social Responsibility actions within the Responsible Greece institution.
Watch video here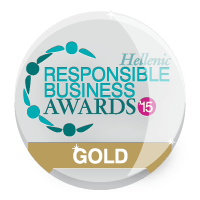 actionaid

Supports charitable organization «Actionaid» by adopting a child for each employee of Yuboto. Find information on the activities of Action Aid here: www.actionaid.gr
Make a Wish

Provides telecommunication services and supports the charity of "Make A Wish Greece". Find information on the activity of Make A Wish here: www.makeawish.gr
Love Kids

Supports the charitable organization «Love Kids» as the official telecommunications sponsor, enhancing families without access to basic goods (food, clothing, toy, psychological support). Find information on the action of Love Kids here: www.lovekids.gr
Κέντρο Ζωής

Helps the charity "Life Center" organization that supports HIV-positive patients, providing media services. Find information on the action of Life Center here: www.kentrozois.gr
Aiesec

Supports, advises and trains the Students of the «AIESEC» organization, with numerous seminars, conferences and educational activities that enhance the abilities and potential of young people through life experiences and internship opportunities abroad. Find information on the action of AIESEC here: aiesec.gr
We Love Animals

Supports our four-legged friends, through the provision of telecommunications services to animal welfare organizations and unions.