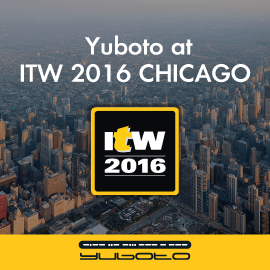 Yuboto was at Chicago in order to participate at the International Telecoms Week (ITW2016) that was held between the 8th and 11th of May 2016, at Hyatt Regency Chicago. ITW is considered as the top meeting in telecommunications sector, where executives from all over the world renew their annual appointment to exchange opinions, views, strategies and services mainly related to the "voice" industry.
Apostolos Ioakeim, Yuboto's General Manager, says: Both the exhibition and the parallel activities scheduled are an important, and perhaps the unique tool to effectively develop our own Greek companies in the international market. During ITW we had the opportunity to talk and do business with executives from the most reputable telecoms organizations in the world. This in fact gives us unlimited cooperation and development prospects. I would actually say that it has been a very successful participation, that helps Yuboto, not only effectively expand its international customer base, but also achieve lower international voice costs for its customers through new agreements.
Yuboto's intensive expansion program in the international markets for the first half of 2016 is completed with the company's participation at the 7th Infocom Albania on the 24th of May, as well as the annual Global Carrier Community Meeting / CEE 2016 in Berlin on the 28th and 29th of June 2016, where Yuboto is planning to present for the first time a new innovative service related to mCommerce.