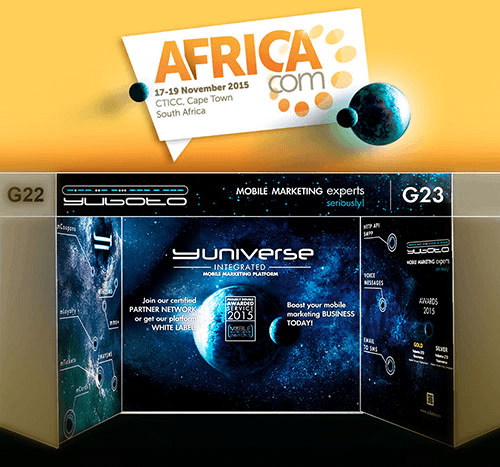 Participating in the largest telecom services and systems exhibition and armed with an impressive stand depicting telecommunications galaxies, Yuboto has chosen Africa.Com to introduce "Yuniverse", its twice awarded mobile marketing platform, to the African market.
Andreas Constantinides, Yuboto's Commercial Director informs us: "Our participation in international exhibitions and conferences is actually a business decision and the strategic area of action in order to expand Yuboto in the international market. "Yuniverse", being the most integrated mobile marketing platform, is our main tool for this expansion. Both, our presence in the Internet & Mobile World 15 in October in Romania and our participation in Africa.Com, clearly demonstrate that Yuboto has the know-how and all the modern tools to attract the interest and establish partnerships beyond the European market. Africa, apart from its important market size, is a rapidly growing market, both in the field of telecommunications and in mobile marketing services. At the same time, realizing that "Yuniverse" is the most integrated mobile marketing platform in comparison with the systems of the bigger "players" of the global market, is another competitive advantage that enhances our business decision."
The exhibition was held between the 17th and 19th of November, in Cape Town International Convention Centre, with more than 350 exhibitors from the telecom services and products sector participating.
Yuboto's participation plan in international meetings during 2015 includes Messaging & SMS World in London on December 1st and 2nd, 2015, Infocom Cyprus on December, 1st in Nicosia, while during 2016 Yuboto has decided to attend the Mobile World Congress in Barcelona, between the 22nd and the 25th of February, in cooperation with HAMAC.