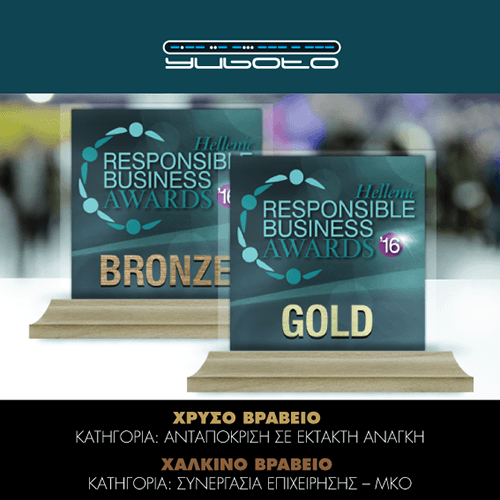 Yuboto was honored with two awards by the Jury of the Hellenic Responsible Business Awards 2016 at the award ceremony in Τhe Grande Bretagne Hotel on Tuesday October 18th.
Specifically, Yuboto won the Bronze Award in the category "Collaboration of Business – NGO" for the project "There is a reason" and the Golden Award in the category of "Emergency response" for the project "Poverty is not a phenomenon of a parallel universe".
Andreas Constantinides, Yuboto's Commercial Director said:
It was a very difficult year for us and this is because as the winner "Team of the Year" in 2015, this year we took the challenge to overcome ourselves.
The need to support vulnerable groups, especially in an environment of which the social fabric is collapsing day by day, should be an irrefutable duty for each company. Our involvement in the maximum possible extent in such actions is for us the way to say "thank you" to all the people of the Non-Profit Organizations that have chosen to do the work that we cannot do: The Protection and Care of People. We are very proud of all our actions and we thank the jury for this double distinction.
As part of CSR activities, Yuboto currently supports more than 10 organizations dealing with human, mainly children, and several animal welfare associations, as well.